Headlines
*Click for full stories*
War On Terrorism

Bin-Laden Undergoes Cosmetic SurgeryISLAMABAD - Sources in Pakistan say Osama Bin Laden has undergone extensive cosmetic surgery in an effort to change his appearance and slip past his pursuers. LEFT: Computer-generated photo of what a post-operative Osama Bin Laden might look like today. Click for full story.
Music News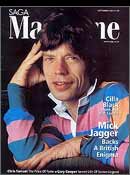 Devil Not Renewing Mick Jagger's ContractHELL - After weeks at the negotiating table, The Devil and Mick Jagger appear to be at a stalemate. The current contract between the two is due to expire at the end of the month. This is the fourth such decennial renegotiation since the Rolling Stones' frontman first signed on with Satan in 1962 at the age of 18. Click for full story.
Animal News

Big Red Dog Hit By Big Fucking Car
Small Island Town Mourns Loss of Beloved Beagle BIRDWELL ISLAND - Clifford the Big Red Dog, well known for both his abnormally large size and unusual color, was killed in a hit and run accident on Tuesday after being struck by what eyewitnesses are calling a "Big Fucking Car". Click for full story.