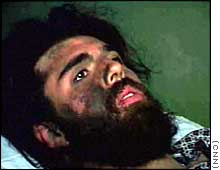 In an exclusive interview with Electronic Internet News, Abdul Hamid, who has been identified by his parents as John Phillip Walker Lindh, 20, of Northern California, claims his alliance to the Taliban was all in fun. EIN Foreign Correspondent Mike Schatz spoke with Lindh at a hospital near Mazar-e-Sharif, in Northern Afghanistan.
EIN: DO YOU STILL CONSIDER YOURSELF A UNITED STATES CITIZEN?
Lindh:Totally, man, I love America. My favorite (expletive) movie in the whole world is Back to the Future II. How (expletive) American is that?
EIN: HOW DID YOU END UP FIGHTING FOR THE TALIBAN?
Lindh: Well, like a couple of years ago, I was at a Phish concert at Red Rocks. It was (expletive) awesome, dude. It was like my (expletive) dream set: Punch You In The Eye, Reba, Albuquerque, The Oh Kee Pa Ceremony. My friend Rodney said he's got a friend who's got a bootleg of the whole show.
EIN: HOW DID YOU END UP FIGHTING FOR THE TALIBAN.
Lindh: (Lindh's following statement, although his own factual account, sounded more like a series of questions.) So, like I'm at the show, right? And this girl Jennifer comes up and she's totally hot? Then Trey starts his jam during "Suzy Greenberg?" and she totally starts rubbing her (expletive) body all over me? And she asks me to come over to her blanket? Then she gives me this stamp with Homer Simpson's face on it? And the next thing I know? I'm (expletive) fighting for the Taliban?
EIN: THROUGHOUT THE WORLD THE TALIBAN IS VIEWED AS BARBARIC AND REPRESSIVE. THE WOMEN ARE ROUTINELY STONED-
Lindh: (laughs)
EIN: NOT THAT KIND OF STONED, MR. LINDH.
Lindh: (laughs)
EIN: YOUR PARENTS SAY YOU ARE A "SHY, SWEET KID WHO CARES DEEPLY ABOUT RELIGION AND SOCIAL INJUSTICE. CAN YOU JUSTIFY YOUR ALLIANCE WITH A GOVERNMENT THAT IS VOID OF ANY REGARD FOR HUMAN RIGHTS?
Lindh: Dude, what up? I mean it's like Afghanistan. They (expletive) all have beards and clothes made of hemp and the snowboarding here in the winter (expletive) rocks. It's like a permanent camping trip. To me, being a soldier for the Taliban is like being like a park ranger at Yellowstone or something.
EIN: IS THERE ANYTHING YOU WANT TO SAY TO YOUR PARENTS?
Lindh: I mean it's like I'm 20 years old. I mean it's not like I'm still at home living off them, right? I mean, it's like I went out and got a job in Afghanistan, you know? It would (expletive) blow if I was like, "Hey, dad, can I go see Phish at Darrien?" You know?