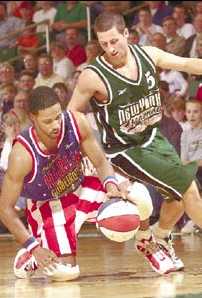 The New York Nationals endured a crushing 128-12 defeat to the Harlem Globetrotters Thursday night at the Leggett and Platt Athletic Center in St. Louis. The Nationals, better known as "those white guys who always lose to the Globetrotters", played a good, solid game, but were no match for the Clown Princes of Basketball. Center Roy McMahon was named the Nationals' Player of The Game, with 5 points and one rebound.
"We just went out there and said 'We've got a clean slate. There are 5 of them and 5 of us. We just need to play our game'", said McMahon. "But the next thing you know, Jamal Livingston has the ball stuffed up his shirt, and here comes Curley Johnson, wearing a blonde wig and pushing a baby carriage. The baby turns out to be Paul "Showtime" Gaffney, who nails a hook shot from half court. It really hurt our team's focus."
Red Klotz, the Nationals' coach, showed less restraint with his frustration. "Those asshole Trotters think they don't have to play by the rules! Sure, the crowd loves it when the points rack up as Herbert Lang juggles 3 balls under the basket, but I'm pretty sure that's against the rules. And they should hope they don't get sued for that exploding scoreboard. One of those flying springs could have put a fan's eye out."
"I just teach my guys to play good basketball. Set shots, bounce passes, good fundamentals. But these clowns come out here and try to put on some kind of circus. Well I'm fucking sick of it! And when are my players going to learn? It's not water in that bucket, it's just confetti! We just keep making the same mistakes night after night, that's the problem. But we're not the robots from Gilligan's Island, for god sakes. We're just men."
Even the 102 point spread given by Vegas oddsmakers was not enough to push Nationals into the win column. The Nationals have not won a game since they assumed their role as the Harlem Hoopsters' arch rivals in 1995. Prior to that, the Washington Generals had a career record of 3 wins and 18,619 losses vs. the Globetrotters. Just one win would give the Nationals a better winning percentage than the Generals.