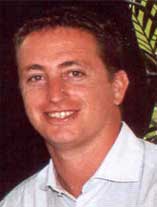 Just when you thought the gag had gotten a little old, Gary Martin, that guy in outside sales that sometimes comes to the staff meetings, got another big laugh with his "my ass" routine. This time he recited the company slogan, replacing "the world" with his familiar collocation. The room erupted as he quipped, "GloboChem. A new way of looking at my ass."
Martin has been using the formulaic word-play for over four years. "The first time I said it, we were tailgating before the Georgia/Georgia Tech game," he remembers. "I knew I was on to something because I heard some other people in the parking lot who weren't even with our group laughing after I said 'the Bulldogs can hunker down on my ass.'"
Since then, he has used the comedic device on a regular basis. Favorite quotes include "Our goal for fiscal '99 is a 20% increase in my ass," "How do I know if my ass is Y2K compliant?," and "Osama is holed up somewhere in the caverns of my ass." A renewed sense of patriotism caused him to abort the planned "I pledge allegiance to my ass" in the September staff meeting.
Martin says he has no plans to stop the running joke. "As long they give me laughs, I'll give them my ass."