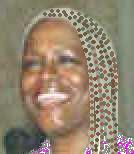 ATLANTA, GA - Early this morning, Fashion Police moved in and put and end to a long standoff with WSB news anchor Monica Kaufman. Fashion Police Chief Brett Summers, along with the FP SWAT unit, raided the newsroom and took Ms. Kaufman into custody. The authorities also seized several of Kaufman's personal items, including braided platinum blond hair extensions, a gold ascot, and a sequined blazer. Said Chief Summers, "She has done a lot for the community, but this was simply just too much abuse. We have been monitoring this situation for years. We're just glad it's finally over."
Kaufman has had run-ins with the FP since the 70's, during which time she has changed her hairstyle some 800 times. Some of the more egregious violations have included a "Kid 'n Play" shaped 'fro, cornrows, a "Caesar", a processed sweep, and a rainbow of tints and highlights.
In exchange for a suspended sentence, Kaufman has agreed to give information on the whereabouts of former CNN Headline News anchor Lynne Russell, long wanted by the FP.