A government report released today indicates that some sectors of the economy are experiencing renegade inflation. Startling statistics from the U.S. Commission on Coin-Operated Amusement Devices show that the PRI, Pinball Replay Index, increased nearly 30 percent in 2000. The index, which tracks the average score required for a replay on a sampling of the nation's pinball machines, rose for its 55th consecutive year to a current level of 22 billion.

"This has a direct and negative impact on the consumers who use pinball machines," says Gary Adams, professor of amusement economics at Emory University. "A player who scored 800,000 for a free game on 'Cyclone' in 1988, now needs to rack up 30 billion for a credit on 'Revenge From Mars'. That's just too many points for most people to come up with. The result is a dissatisfied customer, who is unable to even gauge how well he played. Is 900 million a good score? It's hard to say anymore."

John M. Pier, the president of PASS, the Players Against Skyrocketing Scores, says it's our children who pay the price. "When I was a kid, 50,000 points would get you a pop on about any table out there. My son can't even get a free game for a million. That's why kids are turning to PlayStation and such. Pinball scores just don't go as far as they used to."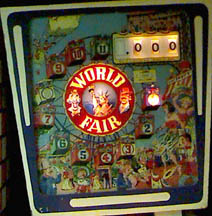 When 'Knicker Bocker' was introduced to America during the great depression, the rules were simple: score 100 points, and you get to play again for free. Replay scores remained relatively unchanged until after World War II, when Bally released 'Flat Top', which required 200 for a free game. The increases began to accelerate as 1959's controversial 'World Fair' became the first 4-digit machine. In the 1970s, games like 'Skylab' and 'Star Pool' demanded scores of over 100,000 from gamers. By the 1990s, pinball reached an inflationary spiral which quickly progressed from the millions to the billions.

Now, analysts like Gary Adams are forecasting the advent of the trillion point game. And pinball lovers shudder as he shares his apocalyptic vision. "I can see a day when scores are so large, the backglass is filled only with the red glow of LEDs, spilling their digits from left to right, top to bottom. We may discover numbers nobody has ever heard of. Did you know there's something called a sextillion? Seriously, I didn't make that up."