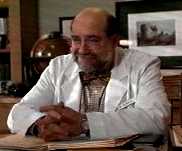 HOLLYWOOD, CA - "Let's get one thing straight," says Chet Goodson, son of legendary game show producer Mark Goodson, "kids today are much more mature than they were 20 years ago, 15 years ago, 5 years ago."
Sitting in an office decorated by life-size cutouts of past Barker's Beauties, Goodson explains the motivation for bringing back the ABC Afterschool Special, a series of made-for-tv movies targeted at teenage viewers.
"Kids today are not going to respond to a lesson in morals if it isn't realistic.," says Goodson. "At the same time, there still needs to be an element of entertainment."
That philosophy was the guiding factor behind the first after school special which he wrote, produced, directed and co-stars in called "Debutante Detention: Stop Chasing the Dragon".
The story takes the viewer into the world of Bianca, a 15 year old from an upper class home who must deal with the everyday troubles of being a teenager as well as managing her heroin problem.
Cheri Owens, the 19-year-old actress who plays the part of Bianca, said she found the role to be challenging on many different levels.
"First of all, I'm playing a 15 year old which is like four years younger than me, so I had to do like so much research for my part. I called my mom and was like what was I like when I was like 15 and she said she didn't know because I ran away from home when I was 14, so a lot of what I was doing was really acting."
The producer claims to have auditioned more than 300 girls for the part. A grueling process that took over 2 and a half weeks.
"I think the toughest part for many of the girls was actually finding my office", says Goodson. "You don't really think of the Comfort Inn as the place where you're going to make your mark in Hollywood, but you know this is the game. This is the illusion. This is the smoke and mirrors part of the show."
Owens said trying to look like a person with a heroin problem who is able to function in the everyday world was difficult, but helped her grow as an actress.
"I've only chased the dragon once, so that doesn't really count," says Owens. Chet was great though. He helped me really understand that Bianca was a good person with a good heart . That she didn't want to be addicted to heroin and she was much happier just hanging out, smoking pot and having sex with her boyfriend and his friends."
Goodson plays the role of Mr. Shepherd, a guidance counselor who tries to help Bianca find her way. When he discovers a wadded ball of aluminum foil containing the highly addictive drug, Mr. Shepherd opts to send Bianca to detention rather than call the authorities.
A grateful Bianca is more than willing to accept this punishment over jail time and the possibility of rehab. Over the course of the detention a bond develops between the two as Bianca sees that Mr. Shepherd is not like "every other teacher" at Cherokee High.
"Mr. Shepherd has been there, done that," says Goodson. "He knows what Bianca is going through. Through flashbacks of his youth, he tries to show her the different directions her life could go in."
The result is a friendship that convinces Mr. Shepherd that Bianca understands him far better than his wife does, and helps Bianca make the right decisions. Decisions that Owens says could really help younger viewers make the right choices of their own.
"I'm like so proud of the message this movie sends out to teenagers. It's like you don't have to get that high to have fun. Everything in modulation, you know?"
Goodson says he has already written two more scripts and is working on a third entitled, "Red Handed: Shoplifting is Naughty" the story of a Traci, a 15 year old who gets caught shoplifting from a convenience store. Goodson plays the part of Mr. Waynehead, the store owner who teaches Traci a valuable lesson about life as they wait for the cops to show up.
As of this printing, ABC had not committed to airing any of Goodson's movies.