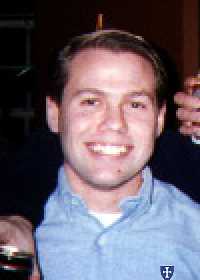 ATHENS, GA The Delta chapter of the Sigma Chi Fraternity announced today that Ingraham "I.C." Cogsworth III, of Hiram, GA, accepted a pledge pin early this morning. Though details of the ceremony and the events which led up to it are not released to the public, inside sources say it was the culmination of a courtship which began just one week ago. The following timeline shows what we now know about this historic occasion.
SATURDAY 9/7, 11 a.m.: I.C. joins other rushees on the boat of Harold "Oscar" Goldman, Sigma Chi's Quaestor (treasurer). Brothers are impressed by his simple southern charm, expensive clothes, and drinking ability.

TUESDAY 9/10, 7 P.M.: Member Charles "Upchuck" Davis calls for a vote to present a bid to I.C. Supporters say that I.C. would be an asset to the chapter because he is a good fucker, has his shit together, and gets a lot of pussy. The motion is rejected by the "drug crowd", who voice concerns that I.C. is a "just another redneck loser".

FRIDAY 9/13, 11 P.M.: At band party featuring cover band Shattered Image, I.C. picks up freshman coed Becky White, who agrees to go to his dorm room. Though he only makes out with her, many brothers believe he pummeled her. Word spreads and I.C.s reputation shines bright.

SATURDAY 9/14, 1 P.M.: In a twist of fate, many of I.C.s detractors are absent from the bid session, attending instead an outdoor Widespread Panic concert. I.C.s praises are sung by many, with the central theme being his 3-hour anal sex session with Becky White. Urgency is placed on the matter when Richard "Fuckstick" Farner mentions that SAE is looking at I.C. "real hard". The bid is overwhelmingly approved.

SUNDAY 9/15, 12:30 a.m.: At a party at the apartment of rush chairman Butch "Foreskin" Lodge, I.C. is asked to come into a bedroom to "get a beer". He enters to find a candlelit room packed with Sigs. Upon the presentation of the lustrous opal and ivory pin, depicting Sigma Chi's Norman Shield, a visibly drunk I.C. blurts out, "Fuck yeah!" He is then promptly doused with a variety of light beers, an act which symbolically fuses the adoration he received during rush with the humiliation he will come to know in pledgeship.
As the quarterback for the Hiram High Backhoes and president of the Student Council, I.C. showed leadership, determination, and a strong work ethic. These skills will all come into play in pledgeship, though his duties will be largely janitorial. In addition, he can use his intellect to memorize countless stanzas of Sigma Chi dogma, and meaningless personal details of the members. It will all be worth it, though. After initiation in the spring, I.C. will be allowed to step on the letters, boss pledges around, and learn the secret shit.

"I'm mighty proud of that boy," said Hiram Town Council Chairman Ingraham "Coggie" Cogsworth, Jr., the boys father. "I got him out of those three bogus DUIs in Hiram, but hes in the big city now. All his mother and I can do is give him our love, our trust, and our money, and hope for the best. In four or five years, he can come back and take over the plantation and the popsicle stick factory, but for now, he can just have fun."

I.C. could not be reached for comment, as he was cleaning the toilets of the fraternity house with a toothbrush.