Headlines
*Click for full stories*
World News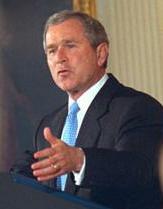 Bush Addresses Global Warming"Global warming is real. Temperatures will rise between 2.5 and 10.4 degrees by the end of this century, but we must do more. To achieve my ambitious goal of doubling emissions every ten years, we need to find new ways to burn coal and oil, to release their precious carbon dioxide."

New International Language ApprovedA study by the International Institute for the American Language shows that by raising the volume of one's voice, speaking slowly and deliberately, and making crude hand signals, two people of vastly different cultures can communicate effectively in English.
Sports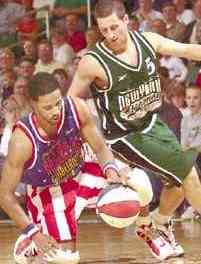 Nationals Lose To GlobetrottersThe New York Nationals endured a crushing 128-12 defeat to the Harlem Globetrotters Thursday night at the Leggett and Platt Athletic Center in St. Louis. The Nationals, better known as "those white guys who always lose to the Globetrotters", played a good, solid game, but were no match for the Clown Princes of Basketball.
Advice
Financial Advice
from Mrs. Van der MeerMrs. Rebecca Van der Meer, wife of GloboChem CEO Walter Van der Meer, is a stay-at-home mom. She and her husband are able to live on one income largely due to her financial management. In her weekly column, Mrs. Van der Meer talks with our readers about leading a happy life while living on a budget.
Health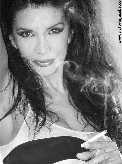 Surgeon General: "Smoking Is Cool."U.S. Surgeon General David Satcher said today that although smoking causes lung cancer, emphysema, and other diseases, smoking is cool. "I'm not saying it's good for you," muttered the Surgeon, a Marlboro red dangling from his lip, "but what is? Something's gonna kill you eventually, so I say if it looks cool, do it!"
Men's News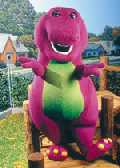 Barney Promotes Unhealthy Body ImageThe producers of the children's television show "Barney & Friends" are coming under attack from men's rights groups for allegedly projecting an unhealthy body image to young boys. The protesters charge that the obese, purple dinosaur creates an unrealistic ideal figure in the minds of male children, which can lead to eating disorders.


Letters To The EditorReal letters from fake people.



Archives
New Issue
July Archives
Contact Us
Tell us what you think, or submit a story of your own!
Copyright 2001 Electronic Internet News
In case a search engine is wondering, Electronic Internet News is a funny, satirical, hilarious, funny news parody website. We specialize in fake news, bogus news, and satire. Did I mention our funny jokes are funny? And I would not dare mention The Onion, America's finest news source, simply to attract attention form search engines. The Onion is to fake internet news what Mr. Show is to tv comedy. And, again, I would never make reference to the HBO series Mr. Show with Bob Odenkirk and David Cross for purposes of self promotion. In fact, this site has nothing to do with The Onion, Mr. Show, nor naked teenage cheerleaders. - Harvey Pinkus, Esq., Editor In Chief
Short Stories
U.S. Achieves 100% Literacy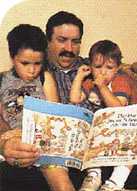 A recent survey has shown that all Americans are literate. The New Yorker magazine polled a random sampling of its subscribers across the nation and posed the question, "Which word best describes your intellect?"
a)savant
b)perspicacious
c)erudite
d)illiterate
None of the thousands of respondents chose "d", though many elected to write in their own answers, ranging from "nooscopic" to "epigrammatic".
Co-Worker Glad It's Friday

During a 5 PM walk to the parking deck, employee Daren Platt revealed to co-worker Ben Easton that he is "glad it's Friday." During the brief conversation, Platt also indicated that he has not been up to much, has been working hard, and has been staying pretty busy. He is glad this week is over. When questioned about his weekend plans, Platt became vague, saying that he has a "few things to take care of around the house", and that he plans to "take it easy".
New HOV Lane

In an effort to control the epidemic growth of traffic in the metro Atlanta area, the Georgia Department Of Transportation has designated another special multi-passenger car lane. The #8 lane will now designate passenger cars with no less than 8 occupants. In addition, all riding in this lane will be exempt from state seat belt laws, as well as federal immigration statutes. Pickup trucks and El Caminos are expected to be among those who benefit from the new law. When you hear #8, you might think of one beef taco, one buritto, and a chalupa, but now it's a lane on the throughway! "If you don't have 8 then don't participate!"
SOURCE: GA DOT
New Photo Of JFK Jr.'s Foot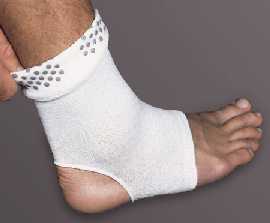 EIN has obtained this never before seen photo of the late JFK Jr.'s foot. The photo was taken shortly after America's Crown Prince sprained his ankle at a lacrosse match in 1992. Since John John's tragic death, there has been a constant push by the tabloids to find previously unpublished photos of the Heir To Camelot. We believe this to be the only existing pedal close-up of the man who was once the country's most eligible bachelor.