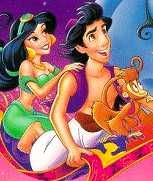 Arabic movie star Aladdin is being held by the FBI for possible terrorist activities. Aladdin, a.k.a. Prince Ali Ababwa, was taken into Federal custody along with his wife Jasmine, and monkey Abu. The FBI crime lab is also performing tests on the magic carpet the trio were riding when they were apprehended.
Aladdin is said to have connections to Jafar, a known associate of Osama Bin Laden. Video footage dating back to 1992 shows Aladdin engaging in an elaborate scheme to infiltrate the Sultan's kingdom by impersonating a prince. Despite the exposition of this fraud, he was still able to marry Princess Jasmine and become prince of the kingdom.
Many who know him describe him as a kind man. "It's hard to believe he could have been involved in the terrorist attacks," said a local woman who wishes to remain anonymous. "Now that I think about it, though, he did always wear that turban or that tiny little hat."
The Academy of Motion Picture Arts and Sciences (AMPAS) has taken back the 1992 "Best Song" Oscar Aladdin and Jasmine received for their performance of "A Whole New World". The Academy feels that, in light of recent events, the song has taken on a different, more sinister meaning. "Now, every time I hear that song, I just think about him killing all those people, and it just ruins it." explained Bruce Davis, Executive Director of AMPAS. "The award will now go to "I Have Nothing", written by Linda Thompson and David Foster, and sung by Whitney Houston, all three red-blooded Americans. We are also stripping the 1984 "Best Actor" Award from Arab American F. Murray Abraham, and giving it to regular American Tom Hulce. They were both in Amadeus, so I don't think most people will mind."